Oxfordshire-based waste management specialists, M&M Waste Solutions, has launched the next phase of business expansion with a zero emissions waste collection service using a fleet of customised electric vans.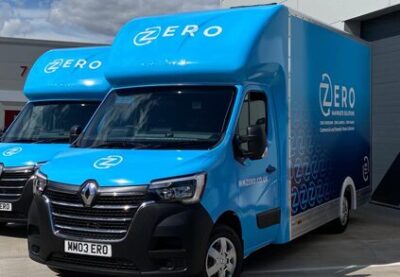 With the imminent introduction of the Zero Emission Zone (ZEZ) in Oxford city centre – and the advancements in electric vehicle technology – the M&M Zero service is perfectly placed to take the hassle out of waste collection, while keeping a focus on minimising the environmental impact.
The fleet of M&M Zero Renault vans has been customised, including solar panels added to the roof providing power for the in-cab technology – maximising battery life to power the vehicles as they travel within the county collecting waste.
The M&M Zero service will initially cover Oxford and West Oxfordshire, with a view to expanding the footprint as demand grows. Customers will be able to book ¼, ½ and full van loads, or arrange for individual bulky items like sofas or fridges to be collected.
The service has a statement of Zero Emissions, Zero Landfill and Zero Hassle. The fully electric service will collect waste items and take them to their own state of the art recycling facility to ensure that nothing goes to landfill, and the drivers will take any inconvenience out of the collection by literally taking the waste from any part of a customer's premises.
Rob Fluckiger, Group MD M&M Waste Solutions: "We are both excited and delighted to be launching this solution which meets the demands of a forward-thinking county such as Oxfordshire. We are determined to reduce our emissions by investing in the latest technologies and this launch of a brand new service solution marks the start of our long term plan to phase out diesel-powered collection vehicles".