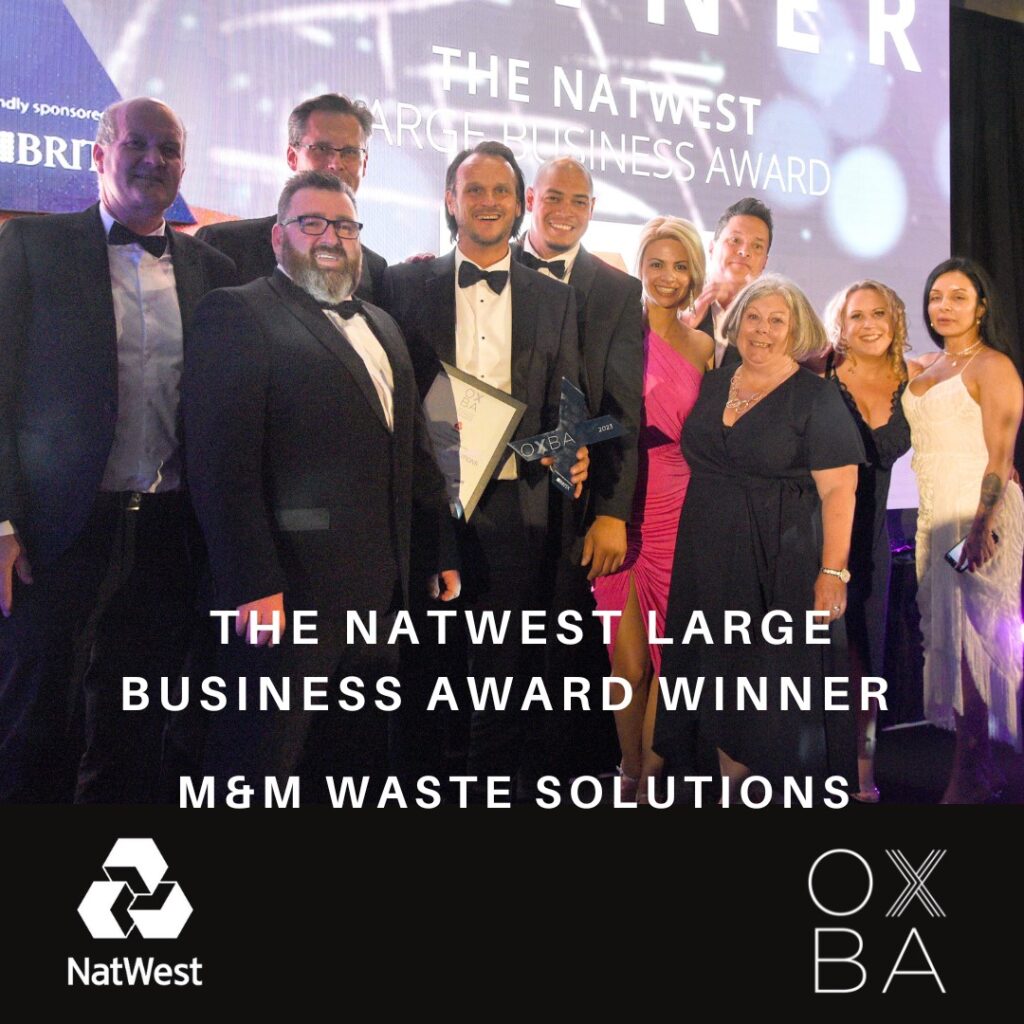 M&M Waste Solutions has won a major business award in recognition of its significant commercial growth and dedication to sustainability.
The Oxfordshire-based group of companies is at the forefront of waste management and recycling in the county. The award recognised M&M Waste Solutions' significant investment in low-carbon technology to help reduce the impact of waste on the environment, by transforming residual waste into energy and its continued job creation.
M&M Waste Solutions was awarded the Natwest Large Business Award at the Oxfordshire Business Awards 2023. The glittering awards ceremony which took place at Oxford Brookes University recognises, rewards and promotes the excellence of Oxfordshire companies.
The Large Business Award rewards companies that demonstrate business growth, a commitment to the local community and a written business plan demonstrating a vision for three to five years. Plus, a commitment to staff and evidence of considering opportunities and risks of climate change within business planning.
Rob Fluckiger, Group Managing Director at M&M Waste Solutions, said: "This award is thanks to the consistent hard work, dedication and delivery of our excellent team. It is a fantastic achievement and I'm proud of the whole team who deserve this recognition for working so hard to help deliver our vision to provide sustainable waste and recycling solutions.
"We have invested significantly in infrastructure, low-carbon technology and our team to create a strong, sustainable business model to ensure long-term growth while reducing the impact on our environment."
M&M Waste Solutions employs more than 85 staff across its two recycling centres and a commercial fleet of more than 30 vehicles. The business provides waste management and treatment services via the operation of two waste transfer stations, a materials recovery facility and other solutions.
Its offering includes M&M Zero, the UK's first man and van waste collection service which is run via a fleet of electric vehicles. It is also one of the leading skip suppliers in Oxfordshire and Buckinghamshire. M&M Waste Solutions invests in staff training and development and in providing opportunities via apprenticeship schemes.
Oxfordshire Business Awards was launched 27 years ago and is firmly established as a benchmark for excellence in the regional business community.